Varsity softball falls in first round of playoffs
The varsity softball team lost a close game, 3-2 to Bowie, April 28 to fall in the bi-district round of playoffs.
"I feel like we played a good game and we definitely fought until the end, but we just couldn't pull through," junior Tevanae Tate said.
In the top of the first, the Raiders scored two runs to take a 2-0 run lead at Noack Field. Bowie answered back with two runs in the third to tie it up.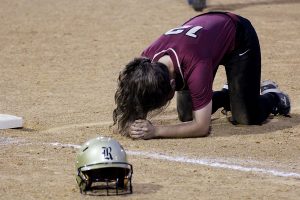 No one scored in the fourth and fifth innings, but the Bulldogs scored the go ahead run in the bottom of the sixth. With one out in the top of the seventh, the Raiders had a runner on base, but a double play ended the game.
"The game was a good game, it was a close and good game," senior Gabi Lopez said. "There's nothing we could have done, we did all that we could and left it all of the field. Of course it does hurt and does sting that it was my last game. For me personally it was my last game ever because I'm not continuing on. It was emotional for everyone, and I'm so proud of my teammates and couldn't have asked for anyone better."
The team finished the season 8-6 in district taking fourth, and 16-12 overall, advancing to the first round of playoffs.
I thought our game went really well, we fought really hard, it didn't go our way at the end," senior Baylee Pearce said. "All of us left it out there on the field. I was sad that we lost, but happy with how it ended."
The playoff loss was the final game for the seniors. After qualifying for the playoffs for three years in a row, the returning lettermen will be moving back to 5A next season.
It is going to be a bittersweet situation going into next year, knowing it's my last season, so hopefully we go out with a bang," Tate said.