Golf teams wrap up season, senior finishes 10th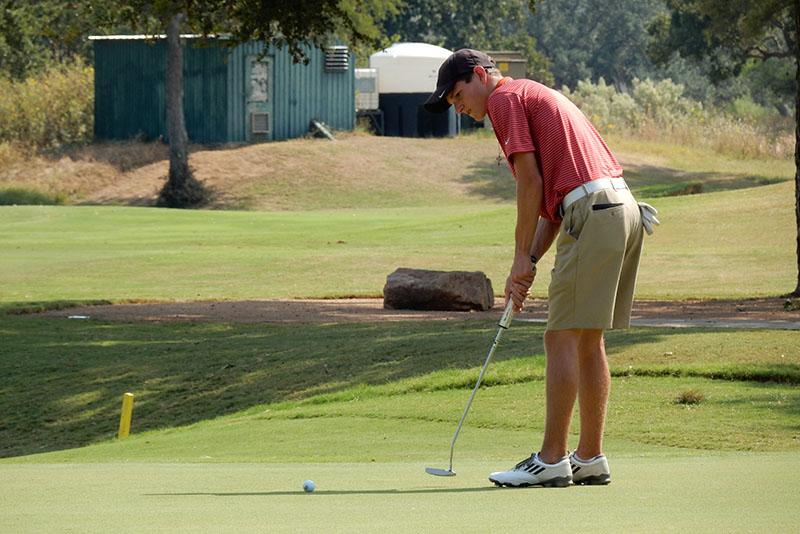 Tyler Roberge, Rumbler Staffer
April 11, 2016
The golf team wrapped up their seasons at the district tournaments in early April. The varsity girls played at Morris Williams April 4, junior varsity competed April 5-6 at Crystal Falls and the varsity boys competed April 5-6 at Star Ranch.
"Overall, we didn't do as well as we wanted to; playing an extra 700 yards than we expected to play," senior Alan Orwick said. "But we went out and did our best. We had a good time playing the sport, but not so much that game."
Senior Colin Massey led the varsity boys team, finishing the tournament in the top 10. He placed 10th overall and received all-district recognition as a result.
"I didn't expect myself to place top 10 but when I got my name called it was like. 'Wow,' " Massey said. "I didn't think I'd be placing this time or placing 20 spots better than I did last year."
Massey is the first all-district golfer in the school's history.
"It's such an honor," Massey said. "Again I feel pretty proud of being really the first one to do it. I don't know how people did back before I even came to this school but it's a great feeling. It's a great feeling being the only one supporting your school throughout the district, it's kind of that on top of the world moment, it feels good."