Twenty-three athletes place at district track meet
Twenty-three athletes placed at the district meet, April 12-14.
"I'm happy about district this week, we had a really good meet. Overall freshman, JV and varsity did amazing," girls coach Kelly Thompson said. "They prepare all year round, just doing what they do."
Twelve athetes placed in the top four which means they move on to area Thursday, April 21 in Marble Falls. Senior Ross Edwards was one of two guys that qualified for area in individual events, placing third in the high jump. Edwards was also part of the 4×400 relay team that took fourth, advancing to area.
"I felt pretty decent, but I could do better," Edwards said. "I got my fastest time in the 4×4."
For the girls, 14 placed in individual events and relays. Senior Kailee Hunt finished third in the discus, with a throw of more than 99 feet.
"I feel very happy on how I did, it's been a learning process this season," Hunt said.  "This is my first track districts considering the amount of learning and I competed very well."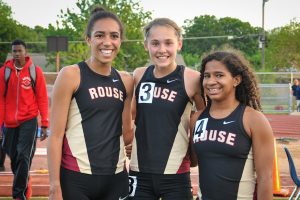 Three girls' relays placed with the 4×400 relay taking third. Nine girls placed in individual events with the team cleaning up in the 1600 and 3200 Meter Runs, taking first, third and fifth in both races. Senior Madie Boreman won both races and was part of the 4×4 team that took third.
"[It was] good, I did fine and I wanted to help my team move on," Boreman said. "I didn't run all out and ran the mile, two mile and 4×4 to help my team advance."
Senior Haley Timmons also placed in the 1600 and 3200, qualifying for area in the two-mile race.
"[I am] really excited and glad I get another chance to race just to see how much better I can get," Timmons said. "I'm going to keep doing what I've been doing."
The team will travel to Marble Falls on Thursday, April 21 to compete in area.
Varsity Track District Results
100 Meter Dash Torrey'Ana Smith – 5th, Jaylin Reeves – 7th
200 Meter Dash Torrey'Ana Smith – 4th
400 Meter Run Abby Lentz – 5th
800 Meter Run Madison Shoultz – 7th
1600 Meter Run Madie Boreman – 1st, Emily Forster – 3rd, Haley Timmons – 5th
3200 Meter Run Madie Boreman – 1st, Haley Timmons – 3rd, Emily Forster – 5th
4×100 Relay Abby Lentz, Torrey'Ana Smith, Raegan Gutierrez, Jaylin Reeves – 6th
4×200 Relay Ashtin Land, Kylie Carpenter, Bailie Rogouski, Raegan Gutierrez – 5th
4×400 Relay Abby Lentz, Madison Schulz, Madie Boreman, Ashtin Land – 3rd
Discus Kailey Hunt – 3rd
200 Meter Dash Christian Krueger – 8th
400 Meter Run Evan Rogers – 6th
800 Meter Run Nathan Hatter – 7th
1600 Meter Run Nicholas Escobar – 5th, James Tisdale – 7th
3200 Meter Run Mitchell Ballis – 3rd, James Tisdale – 5th
110 Meter Hurdles Stephen Wilson – 8th
4×400 Relay Ross Edwards, Stephen Wilson, Cypher Miller, Evan Rogers – 4th
High Jump Ross Edwards – 3rd
Long Jump Stephen Wilson – 7th
Junior Varsity Track District Results
100 Meter Dash Razan Mahmoud – 3rd
400 Meter Run Lila Lilljedahl – 2nd
800 Meter Run Lila Lilljedahl – 2nd
1600 Meter Run Ashton Hilsenteger – 1st, Sarah Warrenburg – 6th
3200 Meter Run Ashton Hilsenteger – 1st, Sarah Warrenburg – 5th
100 Meter Hurdles Jasmin Cuellar – 7th
4×200 Relay Trevor Provencher, Cauy Moore, Tanner Stark, Tyler Latiolais – 1st
4×400 Relay Ian Hoffman, Brandon Planchard, Tyler Latiolais, Alex Bourland – 2nd
300 Meter Hurdles Jasmin Cuellar – 4th
4×100 Relay Rochelle Rios, Noelle' Mitchell, Razan Mahmoud, Sydney Hoppe – 5th
4×200 Relay Rochelle Rios, Noelle' Mitchell, Razan Mahmoud, Sydney Hoppe – 5th
High Jump Noelle' Mitchell – 2nd
Long Jump Razan Mahmoud – 3rd, Aaliyah Edwards – 4th
Discus Blake Ratliff – 8th
Pole Vault Trevor Ellis – 1st, Nich Ayers – 2nd
Long Jump Gabe Bustamante – 6th
Triple Jump Gabe Bustamante – 4th, Cauy Moore – 5th
200 Meter Dash Trevor Provencher – 8th
400 Meter Run Alex Bourland – 3rd
1600 Meter Run Brandon King – 5th
300 Meter Hurdles Brandon Planchard – 3rd
4×100 Relay Trevor Provencher, Cauy Moore, Tanner Stark, Chance Cooper – 4th