Varsity boys basketball in second place after first round of district play
After the first round of district, the varsity boys basketball team is in second place with high hopes for playoffs.
They opened district Dec. 19 at Pflugerville with a 50-46 win.
"It was our first district game, we were still getting everything figured out, but we managed to pull out a win," senior Ben Butler said. "We should have played a little better and our shooting was off, but we won. It was kind of a confidence boost but at the same time we still weren't playing to our full potential."
After playing in five non-district games during the holiday break, the team moved back to district play Jan. 5 with a 72-65 loss to Westwood at home.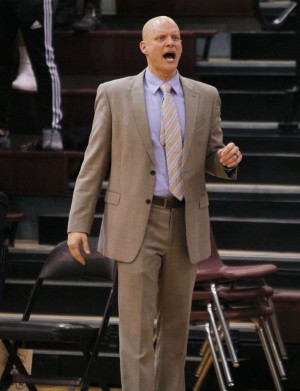 "We lost and honestly Westwood isn't very good so that was a big blow and this is the point in the season when I thought we were going to see if we were going to fall apart or come together," Butler said. "These games really identified the problem with our team chemistry so throughout the first round."
The team bounced back with a 63-54 win over Round Rock three days later, Jan. 8, but fell to McNeil 67-54, giving the team two losses in only the first four games.
"We kind of struggled with a lot of adversity and stuff after losing to those teams," senior Ryan Nagle said. "We were in third or fourth because we lost to those. We were questioning what we could do fix, it kind of put us in a position to that we either needed to pull ourselves together or we're not going to be very successful in district."
With three games left in the first round, the boys worked on teamwork and unity to take down them down.
"Although we started off kind of rough, ever since that since that Stony Point game, we kind of got the momentum we needed to finish the season out really strong," Nagle said.
They won their next three games, beating Cedar Ridge 74-59, Jan. 15, Stony Point 79-58, Jan. 19 and Hendrickson 72-43, Jan. 22. The home win over the Hawks was by almost 30 points.
"Stony Point and Hendrickson were hard," Butler said. "Best games of the year so far. Stony Point we really came together and used our size a lot and that was by far the best game of our season. Hendrickson we played really good in the second half."
The three wins helped the team move back up in the rankings into second place behind unbeaten McNeil.
"I thought it was good because in the middle of the first round there was a point where we figured everything out and started really playing as a team," Butler said. "We needed that process and we needed the two losses we had to identify our problems. I think we'll maybe lose one game tops this round."