BIG MAN ON CAMPUS
Newest teammate brings height advantage to varsity boys basketball team
Six feet and nine inches tall. Size 15 shoe. Jersey number 30. Six years of basketball. State champion.
Senior Austin Meyer is 6'9", making him the tallest player on the varsity boys basketball team and the tallest person in the school. His height and addition to the team this year could give the Raiders a huge size advantage.
"He is going to help us out on the inside, but he also brings a wining mentality to the team, he has a lot of positivity," varsity boys basketball coach Shane Krause said. "On both ends of the court, a 6'9" guy really helps out. Defensively he is hard to score on because he is so tall and long, and he can score on anybody."
For Meyer, being tall has its pros and cons. On the court, it's an advantage. But when it comes to everyday life, it has its downsides. He occasionally has to special order his clothes, and always has to for shoes.
"It's pretty cool," Meyer said. "I mean I can't find a lot of my clothes in stores so I often have to custom order my shoes, but other than that it's alright."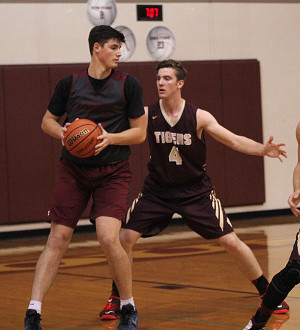 Meyer moved from Mustang High School in Mustang, Oklahoma where he was on the varsity team. The Broncos went 26-0 and won the 2015 state championship. This year is his first year as a Raider.
"Honestly, varsity players are just those who work the hardest," Meyer said. "If you work hard it will make up for what you're lacking. It helps you become more than a decent player."
He has already received calls from Rice, UTSA, Baylor and A&M. But the senior has his sights set on being an Aggie.
"I just love the school," Meyer said. "I don't know why, I really want to go there."
Meyer and the team have been working out since the beginning of school and began practicing in October. The team opens the season against crosstown rival Leander, Nov. 17.
"I think we will be very successful this year," assistant coach Robert Sainz said. "We just have high expectations of the kids and they have been working hard for the past three months. They are finally looking forward to playing against somebody else besides each other for a change. But they are working really hard."
The team has high expectations for a strong season and a potential playoff run.
"This potential could be our best season ever," Krause said. "It will be if we work hard and really play together."
Editor's Note: In mid-November, Meyer committed to play for Rice.