Theatre performance, live music to help fund Scotland trip
The theatre department will have one more fundraiser in hopes of raising $5,000 for their trip to Scotland. They will perform their show, "IN THE WEST" Tuesday and Wednesday, June 9-10 at 7 p.m. in the auditorium.
"We are trying to raise money for our final push, our trip to Edinburgh, Scotland in August," theatre director Stephane Smith said. "We are competing in the American High School Theatre Festival, which is an honor that we won about a year ago this time and with it is a wonderful, trip but we'd have to travel a show overseas which so it's very expensive."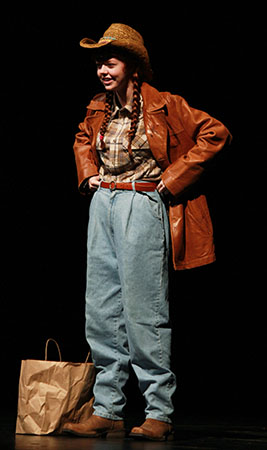 "IN THE WEST" features a series of monologues and was written by a group of Austin playwrights. It is the show the theatre students will perform in Scotland in August.
"It's a series of monologues, some of them are funny, some are poignant, some of them are pretty heavy, but they are all very entertaining," Smith said. "And we also have some bands from Austin that are coming to play."
Tuesday's show will include the soulful electric ukulele playing of Arielle LaGuette and Wednesday's show will feature the rock music of Distant Lights.
Tickets are $10 and can be purchased at the door or online at http://rhs.edpay.net.
"With your $10 ticket not only do you get to see the show but you get to listen to some awesome music," Smith said.