Ed Sheeran concert brings favorite songs, tear-jerking moments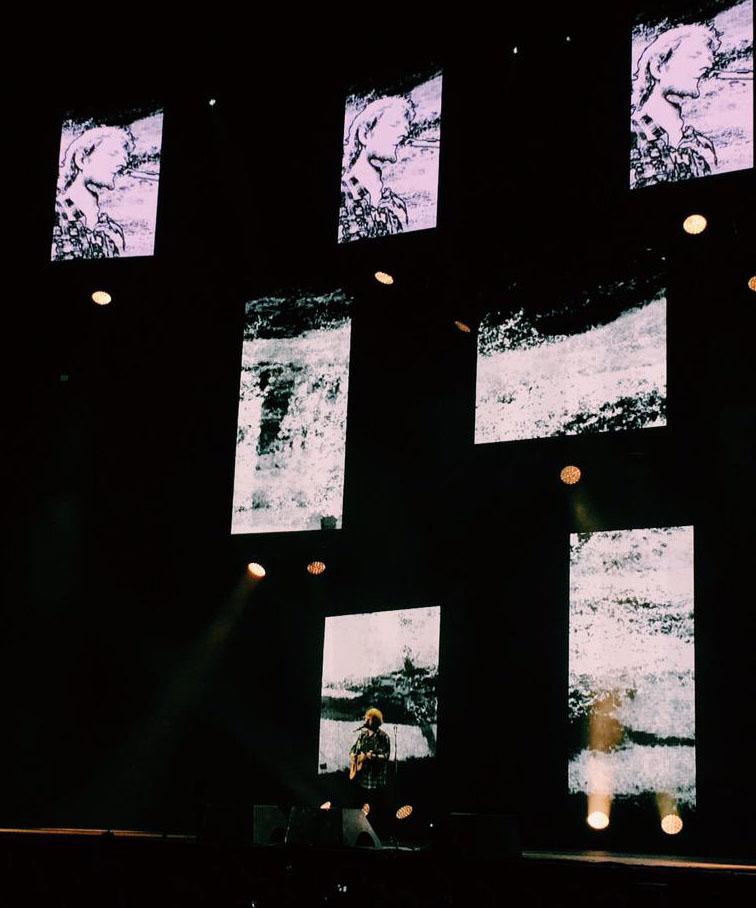 Ed Sheeran kicked off his nine-week concert tour in Austin last night at the Frank Erwin Center with tear-jerking moments and amazing digital displays.
Opening up for Sheeran was Ben Kweller, who was completely comfortable on stage. Kweller is a well-known Austin artist who played a lot of his original songs, including "Wasted & Ready," a popular song from his 2002 debut solo album. It was just him and his guitar. He sang his heart out and got the crowd pumped for Sheeran. At one point between songs, someone yelled, "We love you Ben," and while he was singing, he sang back with a smile, "I love you more." My heart suddenly filled with joy. Kweller played a few songs on his guitar, then he went over to the piano and boy, can that man play.
When his performance was over, the crew moved to set up for Sheeran and we started to converse with those around us. One guy asked me what my favorite song was and I said "I'm a Mess." Right after I got the words out, the lights shut off and I knew it was time. I felt my heart skip a beat because I could faintly hear the beginning instrumental of 'I'm a Mess.' I felt as if all the air was knocked out of me, the lights came back on, and as my eyes adjusted, Sheeran appeared halo-ed by the smoke and glowing lights around him. He sang song after song, getting better and better. In between the songs, he talked to the crowd about how he was doing and how much he loved us. That's one of the things I love about him, how unbelievably humble he is. Lights were flashing, smoke was suspending in the air, it was great.
At one point he stopped playing and told us, "You know what guys? I have a good feeling about tonight." Then he told this guy in the second row to come up because of something on the sign he was holding. When the guy and his girlfriend got on stage, Sheeran gave each of them a hug and the guy started talking about how much he loves his girlfriend, quoting Sheeran songs. Then he got down on one knee and proposed to her. At this point I was bawling my eyes out with joy and love. Sheeran welled up too, even commenting about it on his Twitter feed after the show.
When Sheeran slowed it down a bit and started to play "Thinking Out Loud," everyone put their flashlights on their phones on and waved them around. It looked as if fireflies invaded the dark venue. Looking around as we were all singing together felt so amazing. I am so blessed to have experienced such an amazing night I will never forget, and I spent it meeting new people, being with one of my really good friends, and of course, seeing Ed Sheeran.