Join the Club
Love—love is what brings people together, especially here on campus. Whether it's writing, reading, the environment or God, four new clubs are bringing students together over a loved topic.
Poetry Club meets the first and fourth Tuesday of every month in sponsor Melissa Waggoner's room 2113, to write, share and express their interest in the literary arts.
"I'm hoping to get a chance to experience what others have to write as well as what I have to write," senior Quinn Morgan said.
Currently the club is small and still developing. Because of a lack of awareness amongst students, Morgan, who started the club, hopes to attract more attention to their meetings by hanging posters in the hall.
"It was brought to my attention by my brother that I have a deep love for poetry," Morgan said. "So I thought to start a club for others to share the same passion as me."
While Poetry Club expresses their interests through literary arts, Eco Club shares their love of the environment through spreading awareness.
"We have a beautiful campus," senior Kaleb Combs said. "I want people to care about it and respect it as well as the environment."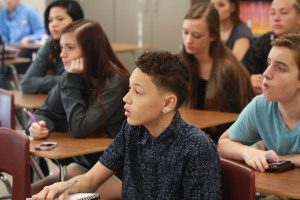 Eco Club meets Thursdays during Advocate in sponsors Stacy Steele or Emily Beck's rooms, 2006 or 3014. While the club is currently working on T-shirts, they play on attending a beach clean up in April.
"In the long run, I just want people to care about the environment," Combs said.
While Eco Club wants to spread environment awareness, Cause Club is here to positively change the environment through fellowship.
"I really just wanted to see other students know and love God the way I do," sophomore Kecey Jorge said.
This club has been building slowly as more people meet to share their faith with each other.
"It's been really great," Jorge says. "Our first meeting there was about 11 people and now we have about 20-22 people so we've pretty much doubled since October."
Cause Club meets every Wednesday morning at 8 a.m. in sponsor Carlos Martinez's room 2407.
Continuing with the sharing of interests in social aspects of clubs, Readers Anonymous is a club where students discuss and share different interests in genres of books for others to read.
"I wanted a place where we could read books with each other and just talk about them and enjoy reading not for a grade, but so we could just read," sophomore Kristeen Johnson said.
Readers Anonymous meets twice a month at 8 a.m. in sponsor KatieAnn Prescott's room 2110, to have time read a book and be ready to discuss it. The club has both a goodreads.com account and a Remind 101 to stay in contact for further involvement.
"I am hoping to get a lot of people more interested in reading," Johnson said. "And into the details of it."