Sophomore pitches no-hitter at Westwood
Sophomore Lexi Shafer pitched a no-hitter at the junior varsity Westwood game, March 6.
"It felt nice," Shafer said. "I like the fact that I had my teammates behind me."
Shafer threw 10 strikeouts in four innings of play. During games Shafer says she puts her full attention on pitching correctly.
"I was focused on making sure that my posture, that my arm was straight. I wasn't really focused on striking out the person, that's not how a pitcher is supposed to think," Shafer said. "You're just supposed to throw a strike and have your defense behind you."
Softball coach Lacey Blissit also credited the defense for helping Shafer remain perfect on the day.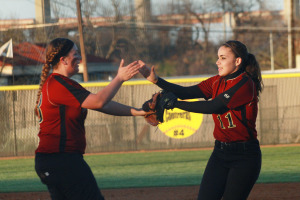 "Of course any time someone pitches a no-hitter defense has to make plays," Blissit said. "I am really proud of the defense."
Blissit noted the sophomore's performance has significantly improved in the last year.
"She has improved since she started on the team," Blissit said. "She played select softball over the summer and it helped her as an athlete."
The Raiders scored 18 runs off of 13 hits in the shutout win at Westwood.
"I thought maybe I got five strikeouts that's it, but I actually ended up getting 10 so I was pretty excited," Shafer said.