Six wrestlers place at regionals, five going to state
Five wrestlers qualified for the state meet after placing in the top four at regionals in San Antonio, Feb. 13-14. The team finished third as a team with only six wrestlers competing.
All six wrestlers placed at the meet, finishing in the top six. Sophomore Noah Martinez won his weight class, becoming the 120 regional champion. Martinez faced Westlake's Hunter Hershey in the final, the same wrestler he beat in the district championship match.
"Overall, the meet went well as expected. The last match also went really well," Martinez said. "I went against a guy I wrestled at district, I won it."
Sophomore Dylan Rowling and junior Jesse Moser each won three matches to reach the championship match in their weight classes. Rowling lost to Westlake's Alex Pankhurst in the final to take second in the 152 division. Moser finished second in the 220 weight class.
"The first match I had I had wrestled the kid earlier in the season three times and I had beaten him pretty bad," Rowling said. "The third match was a little more difficult because the kid that I was wrestling had beaten me before and I had to stay on for all three periods.
Seniors Jose Rangel and Jake Moser went 3-1 the first day to stay alive on the consolation side of the tournament. Rangel won his final match to finish fifth in the 132 weight division and be the state alternate. Moser won all of his matches the final day to finish third in the heavyweight division and qualify for state.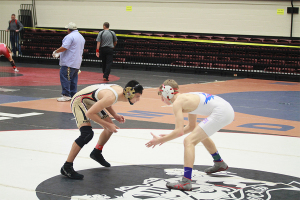 In the 170 weight class, junior Chris Schubert won both his matches the first day and advanced to the consolation finals Saturday. Schubert lost his final match to finish fourth and take the final state spot in his weight class.
"I could have done better," Schubert said. "But I did move to state so that's all that matters."
With all six wrestlers placing, the team was just 4.5 points out of second place.
"As a team we placed third at regionals which is really good as a team we had five out of six wrestlers made it to state," Martinez said.
Martinez, Rowling, Schubert and the Moser brothers will compete at the state wrestling tournament, Friday and Saturday, Feb. 21-22. This is the second year for Martinez and Rowling to qualify for state, both advanced as freshmen last year.
"I am aiming for the podium even though it is pretty stacked but getting to the podium shouldn't be the hard part," Rowling said. "I think each of us can at least place."
WRESTLING REGIONALS
Feb. 13-14
120 – Noah Martinez, 1st
132 – Jose Rangel, 5th
152 – Dylan Rowling, 2nd
170 – Chris Schubert, 4th
220 – Jesse Moser, 2nd
Heavyweight – Jake Moser, 3rd