Six wrestlers advance to regionals
Eleven place at district, boys team takes third
Eleven wrestlers placed at the 14-6A district meet at Delco Center, Feb. 6-7. For the varsity boys, all 10 athletes placed in the top six, with six reaching the championship match in their weight class.
"I'm very pleased with them, their effort," coach Brad Bresnehen said. "The kids have a come a long way and have improved tremendously this year, not only as wrestlers but as teammates."
On the girls' side of the bracket, the school's lone female wrestler Alex Elias competed in the 128 weight class. Elias won her final match to take fifth.
"I fought for it. I gave it 110 percent. I wasn't going to give up," Elias said. "I was really proud."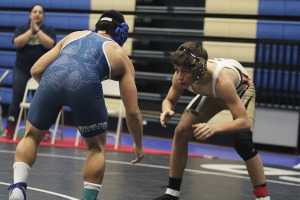 For the varsity boys, all 10 wrestlers were still alive after the first day, with six winning all their matches. In the 132 lb weight class, senior Jose Rangel won a significant match in the semifinals to reach the championship. In a 13-10 win, Rangel beat Pflugerville's Louis Imbriaco, who had pinned him twice before this season.
"I wanted to play a takedown game with him, so that I could pretty much demoralize him. Giving him points but me more points," Rangel said. "I knew as soon as he started breathing heavy I knew I had won."
Rangel finished second in the 132 weight class and qualifies for regionals for the second year in a row.
"I felt like I did the best I could have," Rangel said. "I'm extremely happy with my finish this year, getting second place when last year I got third."
Another wrestler that had another upset to reach the championship was junior Chris Schubert. In the 170 semifinals the junior was losing 8-2 to Westlake's Gabe Moreau when he closed the gap to 8-5 in the second period, and pinned Moreau in the third period.
"I was under a lot of stress for cutting weight," junior Chris Schubert said. "But I pulled through and got the win, so I'm really happy."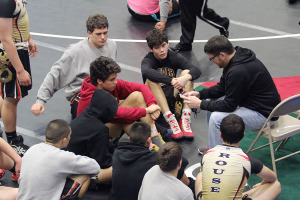 Schubert won his final match to win the district championship. Two other athletes also won their weight classes – sophomore Noah Martinez won the 120 weight class and junior Jesse Moser was the district champion in the 220 weight class.
"I feel great about the tournament. The first day I was worried about my shoulder and making it to finals," Martinez said. "In the championship, I faced a Westlake kid I'd never wrestled. I played a takedown game. I overwhelmed and kept taking him down, winning points. He was very frustrated with that."
Overall, the team finished third, only 7.5 points out of second place despite only wrestling 10 of the 14 weight classes. Six wrestlers will now compete at regionals Friday and Saturday, Feb. 13-14 in San Antonio.
"I expect all six qualifies to go to state," Bresnehen said. "I'd like all six guys competing for championships at regionals."
WRESTLING DISTRICT
VARSITY RESULTS, Feb. 6-7
Varsity Girls
128 – Alex Elias, 5th
Varsity Boys
120 – Noah Martinez, 1st
126 – Tanner Looney, 5th
132 – Jose Rangel, 2nd
138 – Brock Catchpool, 5th
145 – Dustin Foiles, 5th
152 – Dylan Rowling, 2nd
160 – Sam Huston, 5th
170 – Chris Schubert, 1st
220 – Jesse Moser, 1st
Heavyweight – Jake Moser, 2nd
 
JUNIOR VARSITY, Jan. 31
131 – Garit Davis, 1st; Adrian Sanchez, 2nd
149 – Michael Ombres, 4th
187 – Gage Koch, 3rd
250 – Blake Ratliff, 1st