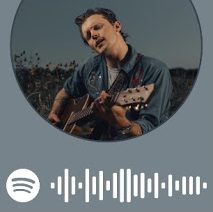 Are you finding yourself listening to the same music over and over again? Trust me, I think we're all right there with you. Over the last few weeks, I have been searching for new music that we could all enjoy and add to our playlists. As a local in the Austin area, I thought it'd be great to check out the many aspiring artists around me here in central Texas.
While looking through Instagram, I happened to come across Conner Stephens. Stephens is a local country and folk artist, who was open to answering questions about his music career. Stephens' influence for pursuing music began at the early age of eight when his family moved to ATX. "If I hadn't moved here I don't know that I would be where I am in my career, or even as a songwriter," Stephens said. 
Stephens has released three singles and a studio album. He says that his inspiration for his musical passion is the "many artists from many different genres, [so that's] a big question." He goes on to say that his dad raised him with a very "diverse and eclectic music taste." If he had to narrow it down to the main influences for his country/folk career, the role models he would pick out of the classic country artists would be Hank Jr., Willie Nelson, Johnny Cash, and others like them. As for the newer more modern influences, his pick is Chris Stapleton, Ryan Bingham, Gary Clark Jr., and Noah Gunderson.
Out of everything that comes with loving music and pursuing it as a career, Stephens claims that his personal favorite part is writing songs. He comes to a greater understanding of his inner self and gets to release any stresses or uneasy feelings he may have. "It's very therapeutic, and has gotten me through some really hard times," Stephens said. When asked why Stephens went after a profession in the music industry, he said that when he witnessed so many of his peers getting ready to head off to college, that was when he realized  "the choice was easy," and he "knew there weren't a lot of guarantees in terms of 'making it'" but he knew it was worth the risk.
As for a future in this business, Stephens said that within the next ten years "if all goes as planned," he will be touring the U.S. while writing and recording his songs. Stephens voices the goal of his career is, "writing honest songs that people can connect to each other and themselves."