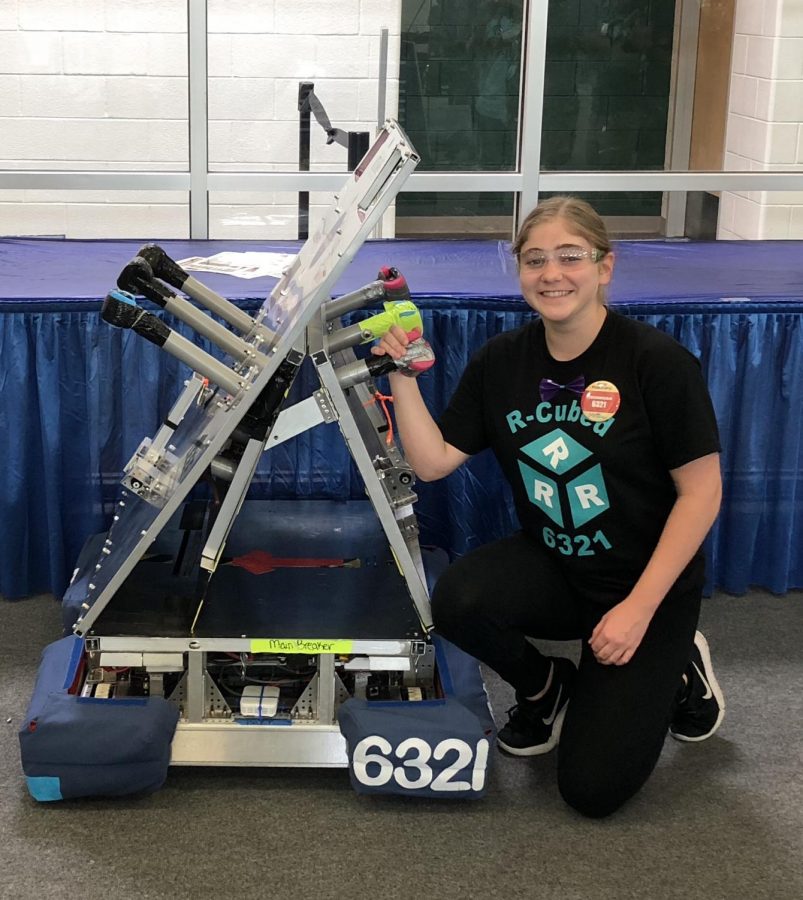 photo courtesy of Melissa Helbert
As she walks through the hallway, her mind races. Did she bring the right clothes for practice? Did she remember her reflection for last week's meet? Confidently, she pushes the door of the classroom open. She knows she is prepared – that's her specialty.
Sophomore Audrey Helbert is a student who seems to be able to do it all. Not only is she at the top of her class, she is a Royal, a competitive studio dancer and a veteran on the robotics team.
"I enjoy robotics because it brings me closer to people who I wouldn't have even known," Helbert said. "It's a good feeling to create something as a group and watch it succeed."
Helbert enjoys going to meets with the rest of the team because of the thrill of competition. At each meet, their robot competes head-to-head with other schools' robots, to see which can better perform the given task. It's a team effort, and Helbert said they need all hands on deck at contest time.
"It can get very chaotic in the [meet], but we try our best to keep things running smoothly," Helbert said. "I'm the technician, and obviously we want things to turn out the way we planned, but if something goes wrong, it's up to me to fix it."
Despite the craziness of competition, Helbert said that's her favorite part. She said the team works hard to prepare for meets and when their robot is in action, they get to see their effort pay off.
"We put so much work into the building process," Helbert said. "When we finally see the finished product, it's great to know we can reach our goals."
Though Helbert spends much of her free time with the robotics team, she is also busy with other extracurricular activities. She goes to 7:30 practice for Royals each morning, then dances after school at Cedar Park Dance Company.
"It's a huge time commitment," Helbert said. "Dancing pushes me to my limits, and I like working on my technique. Everyone has high standards for me, so I am able to better myself and raise up to those standards. I like being able to improve myself."
Even with all her clubs and hobbies, Helbert still manages spend enough time on academics to stay at the top of her class. She said she's been blessed with the ability to manage her time wisely – that way she can accomplish everything she needs. Although she sometimes feels like she's just going through the motions, she is able to a step back and experience it all.
"I'll admit, it's easy to get stuck in a routine when you're this busy," Helbert said. "But I need to remind myself that I'm only in high school once. I don't get a second chance to experience it. I like being involved, because I'm living these moments to the fullest."