Cami Poole Mock Obituary
Hang on for a minute...we're trying to find some more stories you might like.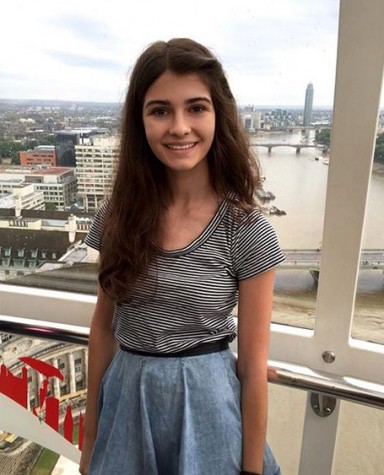 Cami Adele Poole was born on November 21, 1998 in Austin, Texas, to Mia and J.C. Poole. She was bright-eyed and observant from the moment she was born. At an early age, Cami's sense of empathy was apparent. She cared deeply for others and realized how actions affected others around her. As she continued to grow, her compassion for others grew with her. This attitude transcended globally as well. Cami constantly questioned others' intentions and noted injustices both close to home and across the world. She valued all life, down to a tiny ant walking down the sidewalk. It wasn't unusual to see Cami saving a spider found in her house or showing intense concern when she would see a lost pet sign in the neighborhood.
Cami loved volunteering at the local animal shelter where her grandmother volunteered as well. Not a kitten was left unattended before she left for the day. Cami also enjoyed her membership with Rouse Amazing Raiders helping others
realize we are all abled in so many ways and should be included no matter what. She recently was inducted to NHS as well and always maintained a class standing as a
top 10 student. Cami was so humble, however, she would not talk about her
accomplishments with friends because she knew that being successful meant a great many things, not simply being on a list. She saw her friends as accomplished in their own ways, through their individual talents and skills. Never would she see herself as better. She perceived all people as equal.
Cami enjoyed great many aspects of life from a variety of music to playing piano and her ukulele. She enjoyed casual sports such as basketball and soccer. Cami often talked to her parents about her friends and shared stories of enjoyment and sometimes concern. She didn't judge or hold grudges. Ever. She felt that others had good intentions even when it may not seem so. In school, math actually made sense to her and she truly enjoyed every subject. She wasn't yet sure what she wanted to do as a career but she was looking into biomedical engineering, neuroscience or a medical degree. This coming fall she was planning to apply to Stanford, Vanderbilt, Brown, Johns Hopkins, Emory and Rice. Cami said Rice sounded like a farm school and just wasn't too sure about that one! Her sense of humor was wonderful. Of
course, Cami investigated which schools would allow cats or pets in their dorms. She
would have found her way and undoubtedly paved an unusual and meaningful road. Her parents believed her brother, Aidan, and a family friend with ALS was what mostly influenced her career choices. Her heart was filled with compassion and she was determined to believe that many seemingly untreatable issues are resolved if she just looked, studied and researched enough.
Cami was loved intensely by her family and loved her younger brothers with a fierce heart. She only wanted the best for them and often wanted to parent them. She saw
their strengths. Cami loved her family unconditionally. She realized faults were part of who we all are and what gives us our uniqueness. She applied this thinking to all she knew.
Cami is survived by her parents, Mia and J.C. Poole of Round Rock, Texas and her brothers, Aidan (12) and Davis (11); her grandmother, Sandra Lynn Abrams of Austin, Texas; grandfather, Allen Donald Adelson and his wife, Lynn Adelson of Wimberley, Texas; Aunt and Uncle, Amy and Nathan Smith of Austin, Texas; Aunt and Uncle, Stephen and Elissa Adelson of Bellevue, Washington; Brooke Anne Pallanez of Brownsville, Texas; Jason and Katharine Poole of Round Rock, Texas; cousins, Dustin Pallanez, Hunter Adelson, Zachary Adelson, Alexis Smith, Elijah Smith, Greta Poole, Conan Poole, and Gwyneth Poole. Let it also be known that Cami is also survived by a great many friends for whom Cami truly cared.
Funeral arrangements are being coordinated by Beck Funeral Home. An outdoor memorial service will be held at 10:00AM at the Austin Botanical Gardens on March
7, 2016 in the floral gardens. Graveside services will be held immediately following at Eloise Woods Community Natural Burial Park.
In lieu of flowers, the family asks that a donation be made in her memory to Central Texas SPCA or to any legitimate local or global charity for the humane treatment of animals, children, or for human rights.