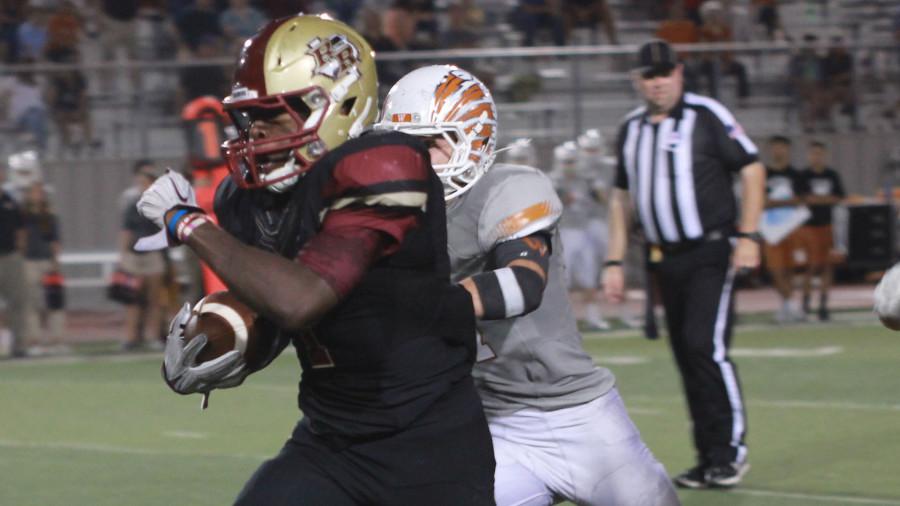 Photo by Janice McLaughlin
Senior Marquis Simmons rushed for a record 338 yards and five touchdowns as the Raiders rolled to a 52-28 win over Westwood, Friday, Sept. 25.
"It feels really good to know that I've done something that the guys before me couldn't do, and the guys before me, they were excellent, they were great football players," Simmons said. "It just feels really good to overcome them, see my hard work paying off."
The senior runningback put the Raiders on the board less than a minute into the game, breaking away for a 56-yard touchdown. Simmons scored again on the team's next possession to give the Raiders a 15-0 lead early in the game.
The Warriors scored two quick touchdowns on their next two possessions to trail 15-14 at the end of the first quarter.
Brady Kaloustian caught a 14-yard pass from quarterback Michael Forster in the second quarter and Simmons tacked on his third touchdown of the night to increase the lead to 29-21.
A Morgan Vest interception led to a field goal to end the first half, 32-21.
Simmons added his fourth and fifth touchdowns in the third quarter, including a 40-yard score that pushed the Raiders to a 45-21 lead. Simmons had 28 carries for 338 yards, making up most of the 422 rushing yards for the offense. Forster was 4 of 7 for 48 yards, with one TD and one interception.
"I'm real happy with Marquis making five touchdowns, I think we can credit Marquis, we also have to credit the offensive line, the quarterbacks, and all of our assistant coaches did a great job this week," coach Josh Mann said. "Marquis is a special young man and he deserves a lot of that credit, and I'm just proud of the way this whole team came together."
Senior Vinny Whetstone added a final touchdown in the fourth quarter on a 2-yard run and the Warriors scored on 4th and 2 with four minutes left.
The Raiders had their best performance this season with 52 points, 22 first downs and 470 yards of total offense. The defense put heavy pressure on Westwood quarterback Jack Swensen, sacking him three times and intercepting two passes. Senior Chris Schubert, whose interception led to another Simmons' touchdown, had nine tackles in the game, seven of them solo tackles. Six players had tackles for a loss. The win was the Raiders' first in district after struggling against Pflugerville last week.
"We're real excited, anytime you can just win a game, it's so hard in our area with such great opponents and that just shows the quality of our kids getting off the mat with a tough loss and to get a big win tonight," Mann said. "We're now 1-1, we're in good shape to just focus on the next week and I can't be more proud of the kids and the way the team played tonight."
The Raiders are off this week and return to district play next Friday, Oct. 9 at Bible Stadium to face district foe Round Rock. The Dragons, who are 4-1 overall and 2-0 in district, are the most physical team the Raiders expect to face in District 13-6A.
"I'm going to take the stuff from this game and the stuff that we learned in practice this week, carry it over to bye week and have good practices so that we can come in next week and beat Round Rock," Simmons said.